What is an International SIM Card?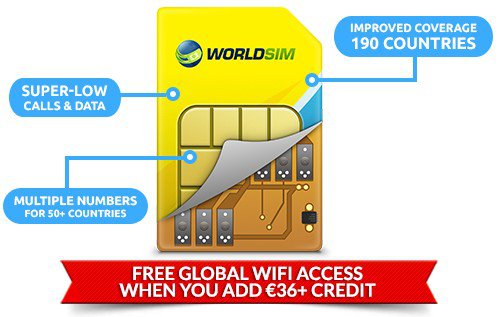 An INTERNATIONAL SIM CARD is an advanced roaming product that allows international travelers to bypass extremely high roaming fees charged by mobile phone operators.
Works in any unlocked handset and compatible with all SIM sizes, and gives you a personal phone number.
The INTERNATIONAL SIM CARD works by inserting a SIM card (with all SIM sizes) into an unlocked GSM phone or iPads and tablets.
All you need is an unlocked GSM world phone or iPad or tablet that will operate in the network of the countries you will be visiting. In order to find out in which frequencies your mobile phone operates, please check your phone's user manual or contact your mobile service provider.
Features & Advantages
Stay in contact when you travel and reduce your roaming charges by up to 95%. Get your FREE WorldSIM International SIM card now!
Free incoming calls in over 95 countries, coverage in 200 countries
Low cost calls, data & SMS worldwide - reduce roaming fees by up to 95%
Once your SIM arrives you can add data bundles
Can be used as a data SIM for iPads and tablets
Works in any unlocked handset and compatible with all SIM sizes
Keep your existing number using our Virtual Numbers service
Free premium global WiFi access.
Click here to view detailed rates and options.
How to sign up
If you are interested in signing up, simply, please click here to enter your order Online via secure order form.