How does callback work?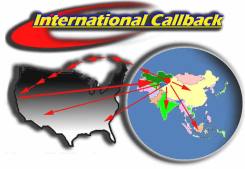 By routing all your international calls through the United States and strategically placed worldwide sites, specialized service providers make the LOWER RATES of the U.S. phone system available directly to your phone. Since all your calls are handled by state-of-the-art computers, all of their advanced abilities are also at your disposal. After you sign up with UWT, we assign you a special, unlisted U.S. phone number. Here is how you'll use it to make a call: You'll call your special number, then hang up after one ring. Since you'll hang up BEFORE a connecting answer, there is no charge to you for the call. However, the ring has signaled our computer, and it will IMMEDIATELY call you back. At this point you simply answer the phone and enter the number you wish to call. That's all there is to it! Learn more about callback.
We provide the highest quality possible as all calls use fiber optic tier one carriers (not VoIP). Not only is our callback service of the best quality, our international callback rates are highly competitive. If you find a callback company with lower rates, chances are, the quality will not be comparable and you will actually end up paying more due to more dropped calls or a missed call. Quality callback is our guarantee. New lower rates starting December 2018!
About UWT

United World Telecom is a US company based in Delray Beach, Florida, USA, with affiliates and independent agents on all continents. UWT is authorized by the US Federal Communications Commission under Section 214 of the Telecommunications Act to provide switched telecommunications services.
UWT's switching and network control center is located in Miami in a state-of-the-art telecommunications facility with temperature and humidity controls. Battery and diesel generator back up in place would provide power to UWT for 10 days in case of a major natural disaster. Utilizing the very latest digital technology, UWT provides a service over a synchronous broad-band network built on a fiber backbone.
UWT is committed to providing high quality communications and services to its customers at substantial savings over national PTTs' rates. The company began providing callback service in 1994.
Features, Terms and Conditions
No Monthly Minimum Usage Requirements!
No Contract, No Commitment
Cancellation anytime
On-Line customer support - check calling & billing details
Multiple language voice prompts available
Change callback numbers with phone system
No charge for busy or unanswered phone calls
Speed dialing of numbers you call often for your convenience
Make highly discounted international phone calls between any two countries in the world
Compatible with any telecommunications environment: voice, cellular, fax, modem...
Free secure on-line sign-up available
Initially register up to four callback numbers
Credit cards accepted: Visa, Master Card, American Express, JCB
Western Union prepayment optional
Toll-Free Access while in the USA - You access UWT's network by calling a US toll free nunber. User can be validated either by entering a 10 digit PIN number or with ANI recognition. For ANI recognition, we need to set up authorized ANI.
Rates
All rates are Per Minute (US$) and are billed in one minute increments after the first minute. The same rates apply 24 hours a day.

New lower rates starting December 2018! Click here to view detailed rates
How to sign up
If you are interested in signing up, simply, please CLICK HERE, to enter your order Online via secure order form.
We reserve the right to request additional information at our sole option including a copy of the front and back of the credit card and a copy of the front cover page of the current credit card billing statement.
Once we have received the completed application, and it has been approved (legibility, credit approval), you can expect service to begin within 24 to 72 hours. You will then receive an E-mail containing dialing instructions and your assigned Access Phone Number(s) and PIN(s).